Tomoyo Sakagami Re-Release by Kotobukiya Review
I still have a few favorite characters on my list that I do not yet own in figure form, but at least with this gorgeous re-release I can check one more off the list! Here's a short review of Tomoyo Sakagami from Clannad by Kotobukiya from their 4-leaves product series.
Packaging
With the first release of this figure almost over four years ago the box doesn't seem to have changed a bit. Usually they redesign the boxes, maybe to set the different releases apart, but I'm certainly not complaining. This means I'm getting the same figure as the first collectors got.
Worth mentioning is the two pair of glasses included in the package. Kotobukiya seems to count on us breaking one of them at least.
Sculpting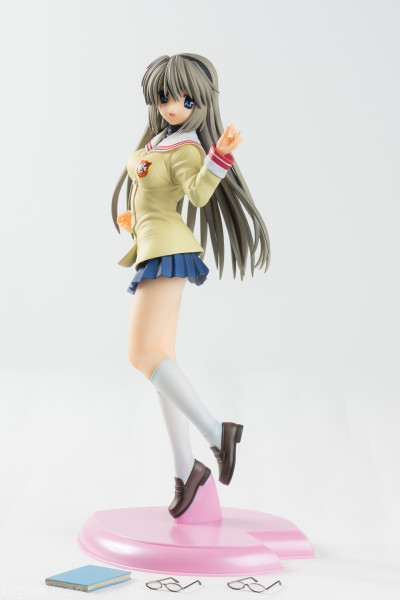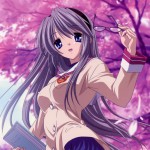 This is one of those figures based on an illustration, this one being an official one by Key Studios seen right of here. While there naturally is a difference between 2D and 3D, the essence of the pose and motion is present in the figure as well. I don't quite think that the emotion and body language originally illustrated is very suited for Tomoyo's personality, but a happy and energetic girl in a unique pose sells more figures than a normal one, so I can understand why they choose this particular illustration for Tomoyo to recreate. I don't mind though as it's one of the reasons I chose to buy this figure of Tomoyo.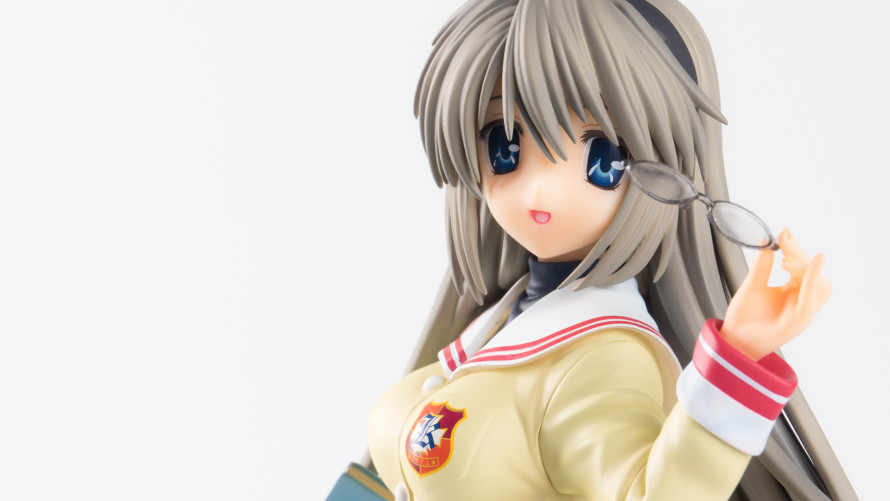 She's currently the biggest figure in my collection when it comes to scale. She's 1/6 scale and stands 25 cm tall. Her big size doesn't necessarily mean more details fit in though, except for perhaps her socks and shoes, but the overall sharpness is satisfactory.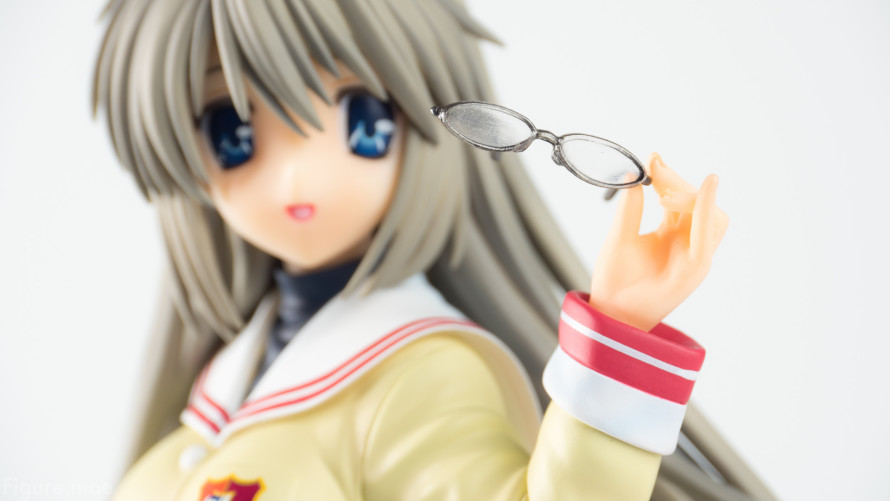 Soft plastic is used for her hands for her to hold onto her glasses and book.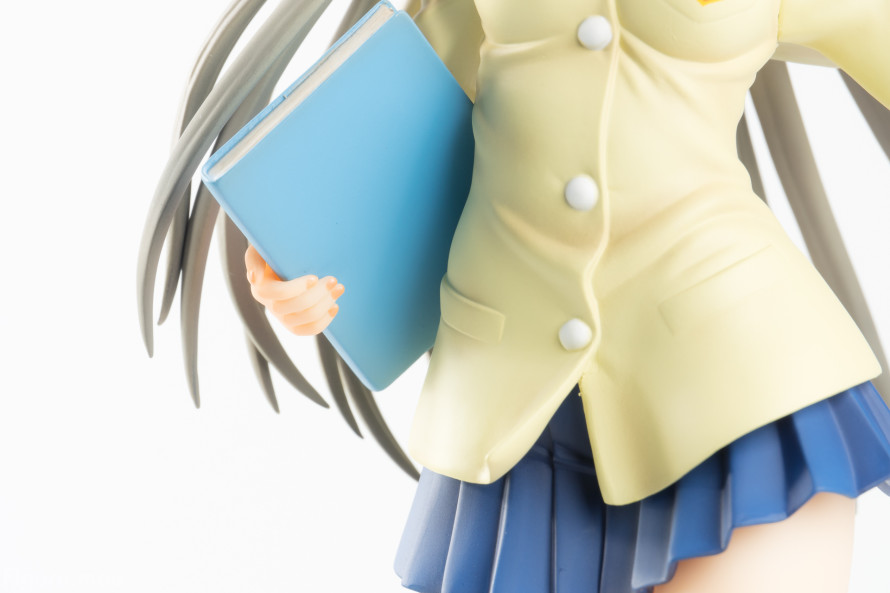 All mold lines are well hidden as I can't find a single one. All edges aren't perfect though, as I can find some residue or faults near the edges.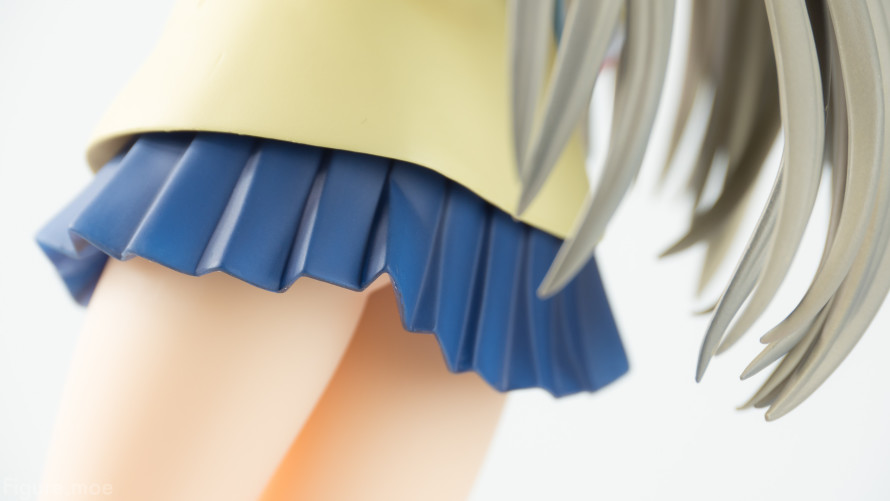 As which is standard on most scale figures nowadays her hair is also done in soft plastics, which I welcome greatly.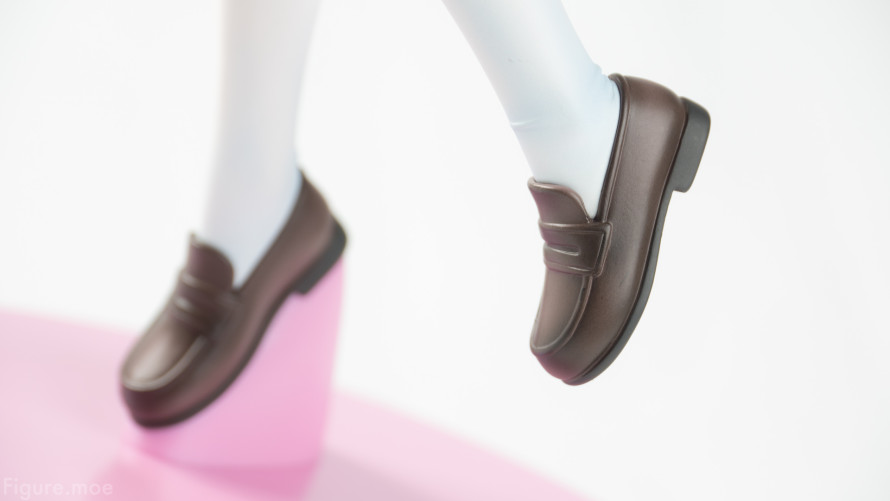 The base is a big cherry blossom petal and fits the original illustration quite well. Bases should also be functional, and although I have no fear of her falling over she does wobble a bit when she's on the desktop.  This can be seen in the video I shot of Tomoyo. It's by no means a negative point, unless wobbling annoys you.
Painting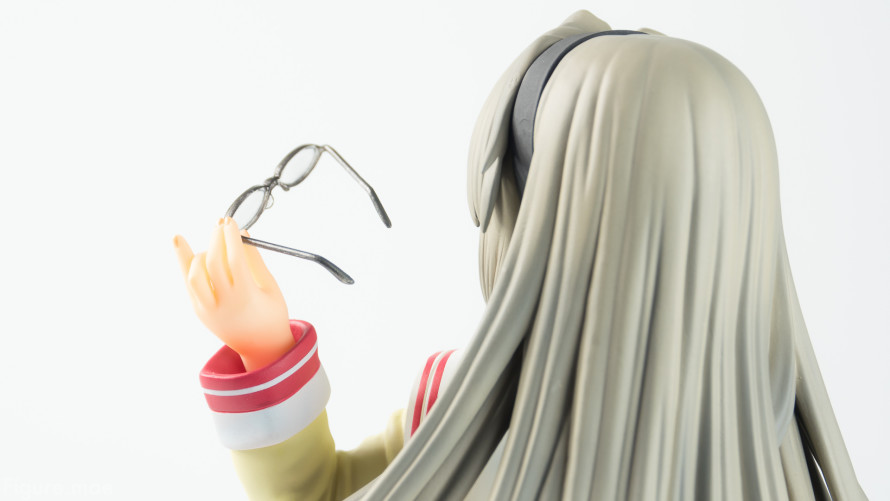 Painting is perhaps not the most interesting or advanced one. Her clothes and hair are all painted in flat colors and instead rely heavily on the self casting shadows to create colored detail. She is an anime character after so this mimicking of cell shading works very well. There are some shading done on her socks and shoes though.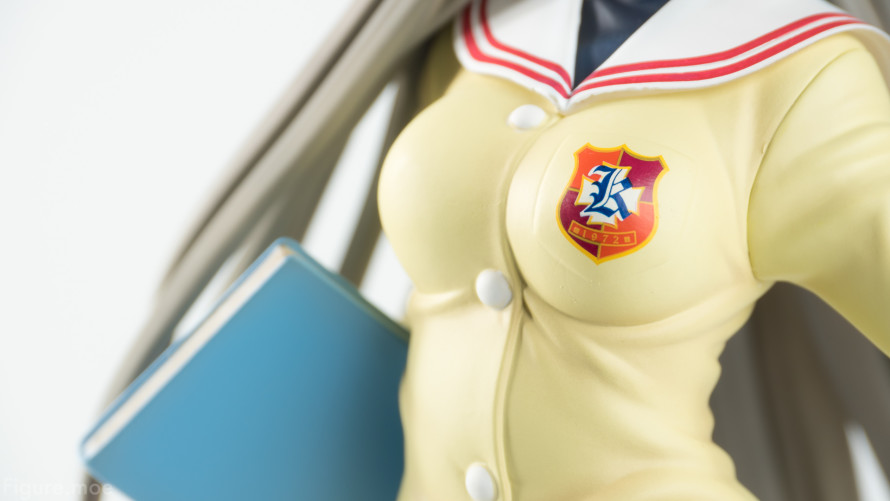 On the other hand I find the detail on her school crest to be very well done.
Conclusion
Sculpting

Painting

Packaging

Enjoyment
If you're used to the character Tomoyo from the animated series or visual novels then maybe this figure isn't showing exactly what you would expect. But if you don't mind a bit different Tomoyo then this figure will impress you with it's size coupled with a fairly OK quality. It's a definite keeper for me.
Overall, 3,9 stars out of 5