Oshino Shinobu by Good Smile Company Review
When the first release of Oshino Shinobu by Good Smile Company came by I don't think I even blinked. But when this re-release  of Oshino Shinobu from the Bakemonogatari (and several other -monogatari) series came along I made some serious thoughts about it and decided to go for it. It makes one wonder why I didn't buy it earlier! I may only have seen two of the series one time each so far (planning on seeing them all one day) and barely remember Shinobu I'm willing to bet anyone can enjoy this figure greatly even if they don't know Shinobu at all only cause it is of such good quality.
Will I, or rather, Shinobu be able to convince you?
Packaging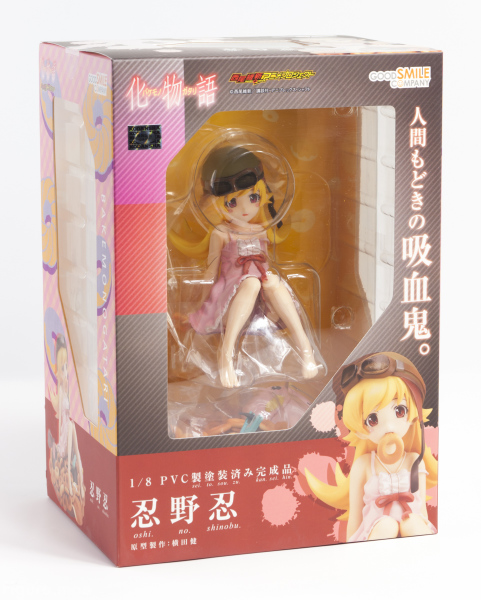 In style with the other Good Smile Company Bakemonogatari figures, this packaging looks just as good in my opinion. I think it's the snappiness and the straight lines that are appealing to me. On the negative side, I do think there's a bit too much space inside making the box unnecessarily big, but as figure enthusiasts there can never be too much protection, right?
Sculpting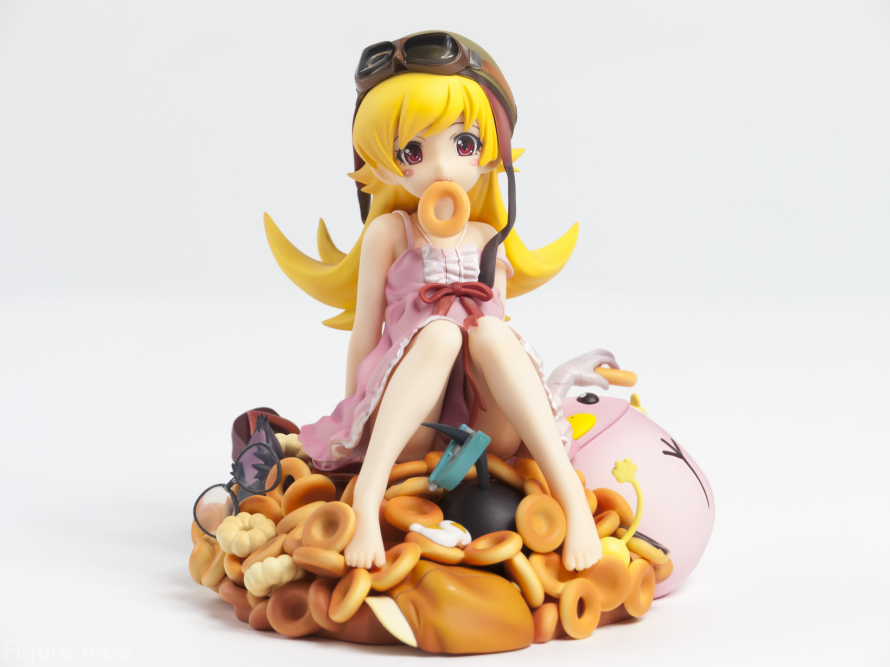 The first thing that hits me when I see her is… Isn't she just such a cutie?! Don't you just want to hug her?!
A-Ahem~ Anyways. There's a lot going on in this figure. From all the donuts in the base to all the other characters poking out here and there, to even Shinobu herself and her accessories. I haven't seen any inspirational illustrations as a source for this figure, so it is perhaps a bit amazing they put so much work into making the base look just as good as Shinobu herself. It may not be whole extra figures buried, but the parts showing in the base are well detailed as well.
There's not really any bad angles to view her from, well, except for her back. It's a shame there's a big brown wall at the back, as it kinda breaks the idea of her sitting on a pile of donuts.
When you put her on the base you wedge her feet in between the donuts and integrates well with the base. They truly do become one and fit well together.
I love figures with exchangeable parts, one reason I love figma, so it's nice to be able to customize the cuteness of this Shinobu scale figure in the way you like her the most. The helmet fits on her head without having to remove anything, and her doughnut you force it in in her mouth. (Yep.) Sadly her mouth does look a bit unnatural when you remove her doughnut.
I remember someone called it banana hair, and it truly is.
Painting
I don't have much negative to say about the painting of this figure, actually. It's near perfectly painted. I can't see any fault or flaws anywhere, except perhaps a big question mark about her eyes. In almost all illustrations they are yellow but in a few ones they are red, just as in this figure. As I can't remember anything from the series I don't know why this is. From a photographic sense though this is better as it creates better harmony between all the colors she wears.
Conclusion
Sculpting

Painting

Packaging

Enjoyment
This has been the most difficult figure for me to review (this far, at least. I've only done three reviews before though). Not because there are plenty of faults to point out, but because there are so few. I suppose it's like a masterpiece. When there are no parts that you can remove or add then it's complete, as good as it can be. And who wouldn't want to own a masterpiece? I may be exaggerating about it being
that
good, but I'm pleasantly surprised by this figure and couldn't be happier with it.
Good Smile did a Good Job.
Overall, 4,3 stars out of 5